Introduction
Omniscient's "Structural connectivity Atlas (SCA)"
How the SCA works
Applying the SCA
Applying the SCA
Importantly, the SCA was built with a focus on real neurological care, and thereby incorporates features often seen with neurosurgical planning. Most notably, in cases of invasive tumours or surgical resection which has left patients without specific cortical parcels, the SCA is able to identify this empty space, and maps the remaining gray matter surrounding this tumor into its most likely atlas region. This is conceptually bound to the fact that the SCA uses white matter to map out the gray matter. That is, when structural damage of the brain leads to gray matter being destroyed, the white matter endpoints that would typically be connected to those gray matter voxels are also unable to be traced to completion - and so the SCA leaves these voxels without a classified parcel.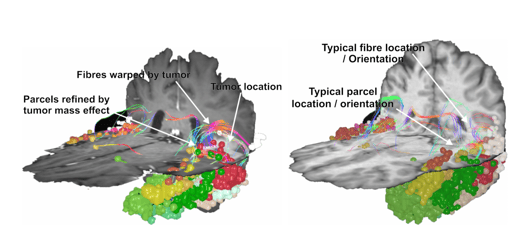 Figure 3. Gray matter re-parcellation through the SCA algorithm. By assigning gray matter voxels to parcels based on the white matter tracts which connect them, the SCA is able to effectively navigate spaces shifted or left empty by the presence or resection of a tumor.
Distinct from other atlas techniques which would require manual tuning to remove tumor-affected space, or which simply classify over a tumor site, re-parcellation allows the SCA to dynamically map an individual's brain accounting for structural damage in the schema and nomenclature utilized in both clinical and research settings.
The SCA is only one of the techniques Omniscient delivers for performing subject-specific brain analytics. Interested in the foundational principles of modern atlassing? Check out our articles on Constrained Spherical Deconvolution and the History of Brain Mapping to learn more, or extend your knowledge further by learning more about the seven major brain networks classified within the SCA.
*Read more about the SCA in our recently published article in Human Brain Mapping
Reference list
Doyen, S., Nicholas, P., Poologaindran, A., Crawford, L., Young, I. M., Romero-Garcia, R., & Sughrue, M. E. (2021). Connectivity-based parcellation of normal and anatomically distorted human cerebral cortex. Human Brain Mapping, 1–12. doi:10.1002/hbm. 25728
Glasser, M.F., Coalson, T.S., Robinson, E.C., Hacker, C.D., Harwell, J., Yacoub, E., et al. (2016). A multi-modal parcellation of human cerebral cortex. Nature 536, 171-178.

Fischl, B. (2012). FreeSurfer. Neuroimage 62, 774-781.

Baker, C. M., Burks, J. D., Briggs, R. G., Conner, A. K., Glenn, C. A., Sali, G., et al. (2018). A Connectomic Atlas of the Human Cerebrum-Chapter 1: Introduction, Methods, and Significance. Oper Neurosurg (Hagerstown) 15, S1-s9. doi:10.1093/ons/opy253.

Yeo, B. T. T., Krienen, F. M., Sepulcre, J., Sabuncu, M. R., Lashkari, D., Hollinshead, M., et al. (2011). The organization of the human cerebral cortex estimated by intrinsic functional connectivity. Journal of Neurophysiology 106, 1125. doi:10.1152/JN.00338.2011.