Introduction
How does tractography work?
The challenges of crossing fibers
CSD for whole brain cortical tractography
The importance of CSD for generating accurate tractography
The importance of CSD for generating accurate tractography
Roughly 70-90% of white matter voxels within the human cortex contain multiple fiber orientations either due to crossing, branching or touching fibers and thus conventional DTI may be unsuited for applications of tractography that demand precision13. CSD tractography represents a significant methodological improvement when investigating small white matter structures within the brain. Whilst the iterative process of CSD makes it a computationally demanding method to perform, current research into machine-learning based approaches to CSD by leveraging cloud computing and parallel processing are driving the production of more efficient algorithms to generate accurate tractography.



Download our whitepaper on CSD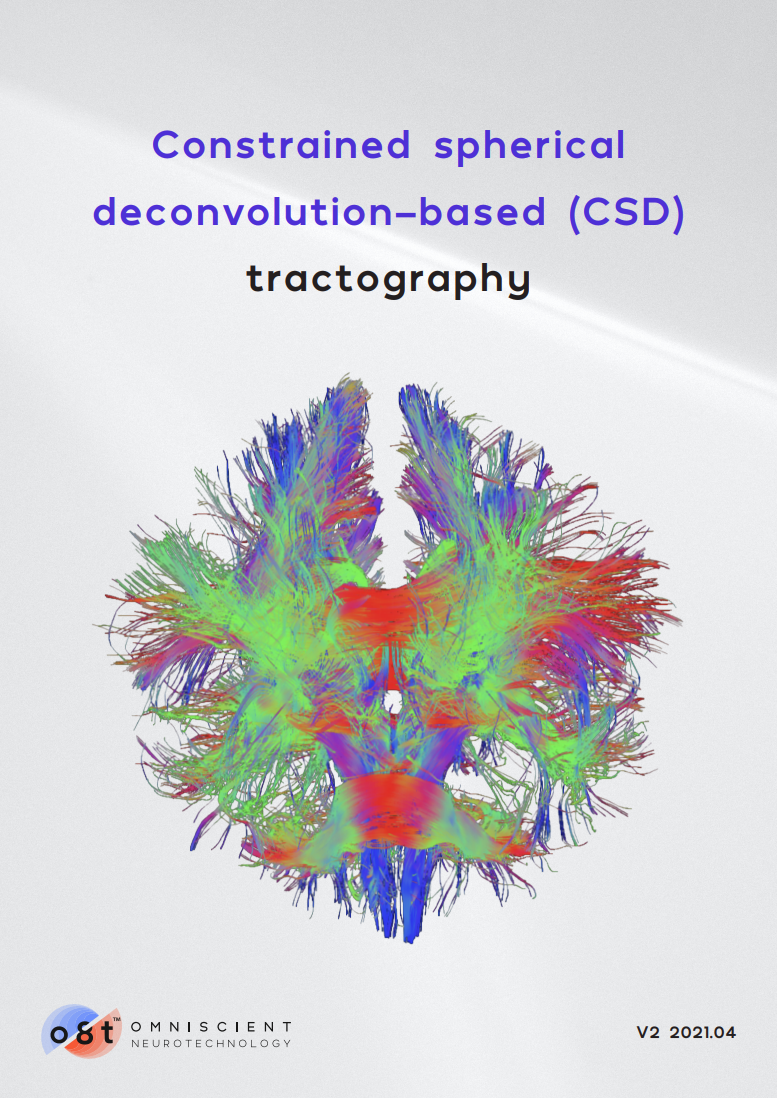 Reference list
Bammer R. Basic principles of diffusion-weighted imaging. European Journal of Radiology [Internet]. 2003;45(3):169–84. Available from: https://www.sciencedirect.com/science/article/pii/S0720048X02003030
Katherine H. Karlsgodt, 'White Matter Microstructure across the Psychosis Spectrum', Published: April 26, 2020, DOI:https://doi.org/10.1016/j.tins.2020.03.014
O'Donnell LJ, Westin CF. An introduction to diffusion tensor image analysis. Neurosurg Clin N Am. 2011;22(2):185-viii. doi:10.1016/j.nec.2010.12.004

Figueiredo E, Borgonovi A, Doring T. Basic Concepts of MR Imaging, Diffusion MR Imaging, and Diffusion Tensor Imaging. Magnetic resonance imaging clinics of North America. 2011 Feb 1;19:1–22.

Schilling KG, Nath V, Blaber J, Harrigan RL, Ding Z, Anderson AW, et al. Effects of b-Value and Number of Gradient Directions on Diffusion MRI Measures Obtained with Q-ball Imaging. Proceedings of SPIE--the International Society for Optical Engineering [Internet]. 2017/02/24. 2017 Feb;10133:101330N. Available from: https://pubmed.ncbi.nlm.nih.gov/28845076

Basser PJ, Mattielo J, LeBihan (1994). MR diffusion tensor spectroscopy and imaging.

A.M. Auriat, M.R. Borich, N.J. Snow, K.P. Wadden, L.A. Boyd, Comparing a diffusion tensor and non-tensor approach to white matter fiber tractography in chronic stroke, NeuroImage: Clinical, Volume 7, 2015, Pages 771-781, ISSN 2213-1582, https://doi.org/10.1016/j.nicl.2015.03.007.
Tournier, J. D., Calamante, F., and Connelly, A. (2007). Robust determination of the fiber orientation distribution in diffusion MRI: non-negativity constrained super-resolved spherical deconvolution. Neuroimage 35, 1459–1472. doi: 10.1016/j. neuroimage.2007.02.016
Dell'Acqua, F, Tournier, JD. Modelling white matter with spherical deconvolution: How and why? NMR in Biomedicine. 2019; 32:e3945. https://doi. org/10.1002/nbm.3945

Garyfallidis, E. (2012). Towards an Accurate Brain Tractography. Ph.D. thesis, University of Cambridge, Cambridge

Smith, R. E., Tournier, J.-D., Calamante, F., & Connelly, A. Anatomically constrained tractography: Improved diffusion MRI streamlines tractography through effective use of anatomical information. NeuroImage, 63(3), 1924-1938, 2012

Kinoshita et al. Fiber-tracking does not accurately estimate size of fiber bundle in pathological condition: initial neurosurgical experience using neuronavigation and subcortical white matter stimulation. NeuroImage 2005, 25: 424–429.

Jeurissen et al. Investigating the prevalence of complex fiber configurations in white matter tissue with diffusion magnetic resonance imaging. Hum. Brain Mapp. 2013, 34: 2747–2766.